The Steyr-Hahn M1912 is a Austrian repeating pistol developed in 1911 (not a typo) and put into service to the Austro-Hungarian Landwehr as the M12 (M1912) in 1914.
"Hahn"
is German for "hammer", and it is named so because Steyr (and the rest of the Austro-Hungarian military) mostly made/used striker-fired pistols at this time. It's chambered 9x23mm Steyr, and fed from an internal box mag that holds 8 rounds. Interestingly enough, the entire barrel rotates into the receiver to lock up the action for firing.
The slide can be locked back to allow the user to load the magazine with a stripper clip.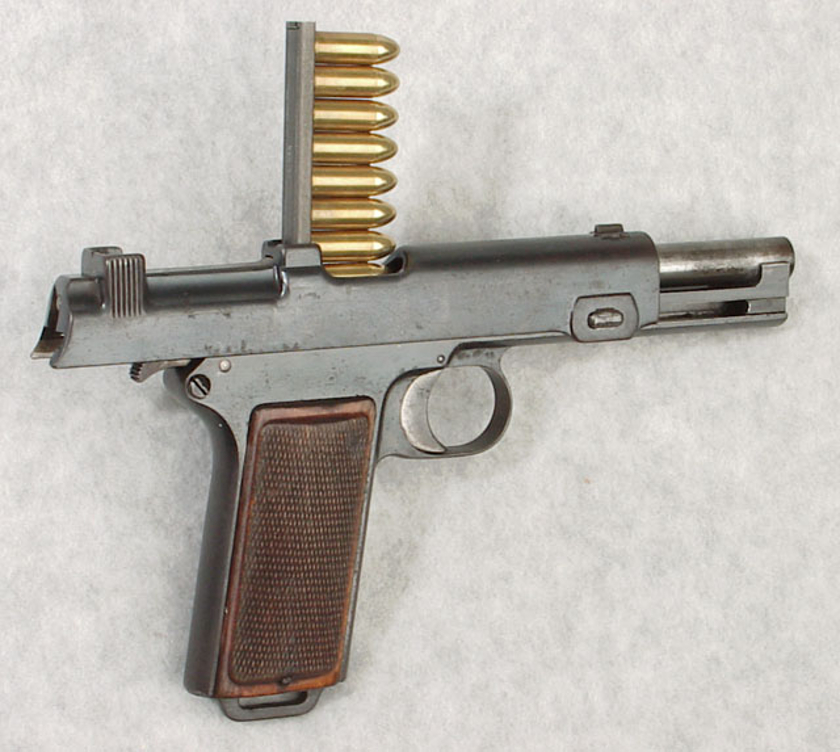 There is a button on the left side of the gun that ejects all of the rounds from the magazine. (YT embed doesn't work with the new "shorts" feature)
https://www.youtube.com/shorts/umfMJQ99Hng
After the Anschluss of Austria, an order for 60,000 of the pistols to be rechambered into 9x19mm Luger was made. These pistols would be marked with "P-08" on the left side of the slide to show that it was chambered in German "1908-type Ammunition". This conversion would be named the 9mm P12(Ö), "Ö" being short for "Österreich" (Austria). These are more collectible than their 9x23mm counterparts, though only the
original
conversions, as there have been many converted to 9x19 after they hit the civilian market by 3rd parties.
There also existed an officially produced conversion of the Steyr-Hahn into a machinepistol, dubbed the M1912/P16. It had a 16 round internal box magazine and stock that could be detached from the gun and act like a holster. 960 of these were made, and they are the most collectible of all the Steyr-Hahn pistols.
M1912/P16
Thank you for reading! If you have any information that you'd like to share or have one yourself that you'd like to send pictures of, I'd be glad to check it out!